EACH PRODUCT IS UNIQUE
Native Joyfood has a very particular assortment consisting of niche products which we are extremely selective about; specialities which we are the first to offer; trademarks of great world renown, which we have the exclusive right to in Italy.
Before offering a new product, we study it. We look at its origin and originality, its composition and values, its processing, production volumes and available quantities, its certificates, references, life cycle and logistics. We also consider cultural, ethical and social aspects and the possible impact with the taste of a public such as ours: curious, attentive, exacting.
And we test it. We often subject it to sensory analysis so as to be sure to valorize it to the maximum already in its description.
And we explain it. In a few words we provide the essential information and in some points we provide more geographical, nutritional, cultural and culinary details.
SAFE DELIVERY OF EACH PACKAGE
Native Joyfood has its own on-site warehouse and guarantees, in partnership with GLS, delivery within 2/3 working days in Italy and 3/4 working days to other EU Member States.
Orders will be shipped from Monday to Friday until 12.30 and parcels will be carefully assembled and checked one by one so that all products travel in perfect condition. During the summer period orders will be shipped from Monday to Wednesday. Orders received on Thursday and Friday will be processed the following Monday.
Goods can be collected, without payment of additional transportation costs, at the San Giuliano Milanese site.
Goods are delivered from Monday to Friday, excluding national holidays.
Every order is trackable – from acceptance, to being picked up by the carrier, to delivery.
Delivery times may vary for reasons beyond the control of the company, such as weather conditions and strikes.
Shipping costs are calculated automatically by the system and vary according to the weight and volume of the package.
Shipping is free for purchases in Italy amounting to more than 100 Euro net, excluding shipping costs and any discounts.
PROTECTED PAYMENT FOR EACH ORDER
Native Joyfood offers you the possibility of choosing how to pay in complete safety: Bank Transfer, PayPal or Credit Card via Paypal.
Our Paypal account is paypal@aruntam.com
On the PayPal website you can pay by Credit Card even without having to set up a PayPal account, by clicking on the words "pay by Credit Card".
On the new visual display which will open you can insert your Credit Card data.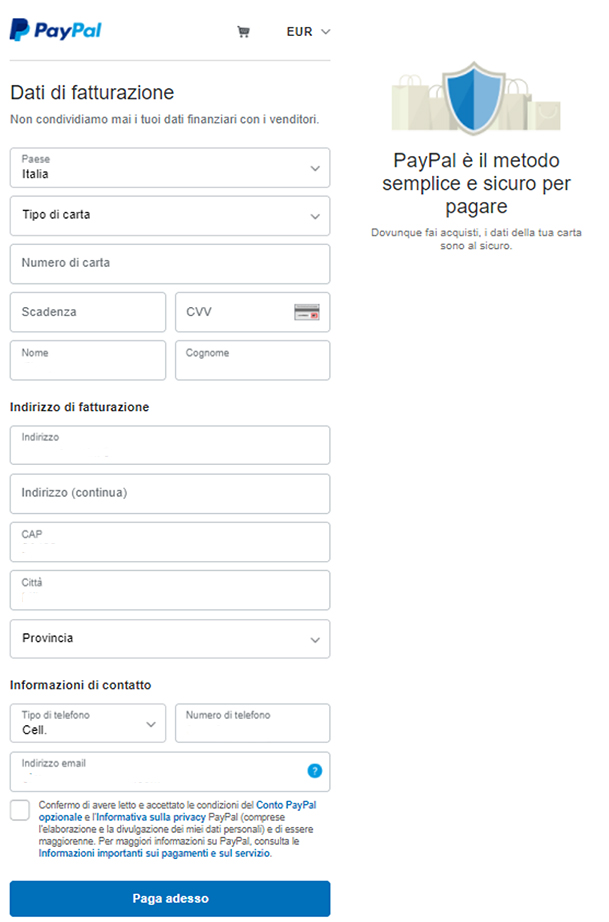 If you pay by Bank Transfer the goods will be sent only after receipt of the transfer.
If you pick up the goods from the San Giuliano Milanese site, payment can be made directly upon receipt of the goods.
RAPID ACTION FOR EVERY NEED
Buy, return, replace: it's always easy on Aruntam. In the case of return or replacement of a damaged good, just send an email to shop@aruntam.com indicating the order number, the product concerned, the reason for return or replacement and attaching a photograph of the article. Approval will follow, complete with instructions. Aruntam will bear the costs of return.
SPEEDY ASSISTANCE FOR EVERY QUESTION
Just send an email to info@aruntam.com